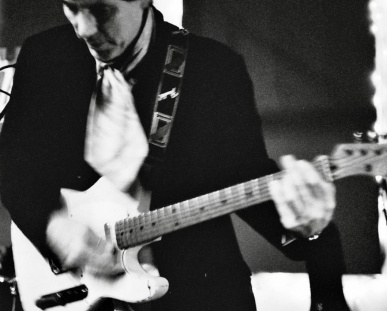 Billboard Magazine called Jim Campilongo, "an American treasure", an accolade this guitarist's artistry and influential career has richly earned him.
Campilongo has nine albums of original material and guest appearances on dozens of recordings; from the Bammie-winner's contribution on Cake's million-selling Prolonging the Magic to (most recently) doing lead guitar duties with Martha Wainwright, Teddy Thompson, Burning Spear and The Little Willies, his band with Norah Jones. Look for the new Little Willies record For the Good Times in January 2012.
He's also had repeat appearances on The Late Show with David Letterman, Late Night with Conan O'Brien, Later…with Jools Holland (BBC), Abbey Road Sessions (BBC) and has been interviewed on many major radio shows. Campilongo's virtuosity and originality has inspired a generation of guitar players. His songwriting uses a palette of the best in Blues, Country, Jazz and Rock with a sensitivity and wit that has also earned him the broad fan base most instrumental guitarists never enjoy.
Campilongo's original compositions display a dynamic range from the Sex Pistols to Miles Davis to Duke Ellington that continue to grow into something unique.In 2011 The Fender Custom Shop bestowed Jim the honor of the Campilongo Signature '59 Telecaster – a high quality instrument made by Fender's elite Custom Shop replicating his now famous vintage 1959 blonde Telecaster.
Since 2005 the Jim Campilongo Electric Trio have performed every Monday at NYC's The Living Room. Time Out NYC recommended the group as "one of the city's strongest" and "…Monday night means Jim Campilongo…"
Additionally, Campilongo is a published guitar teacher and contributing editor for Guitar Player Magazine.