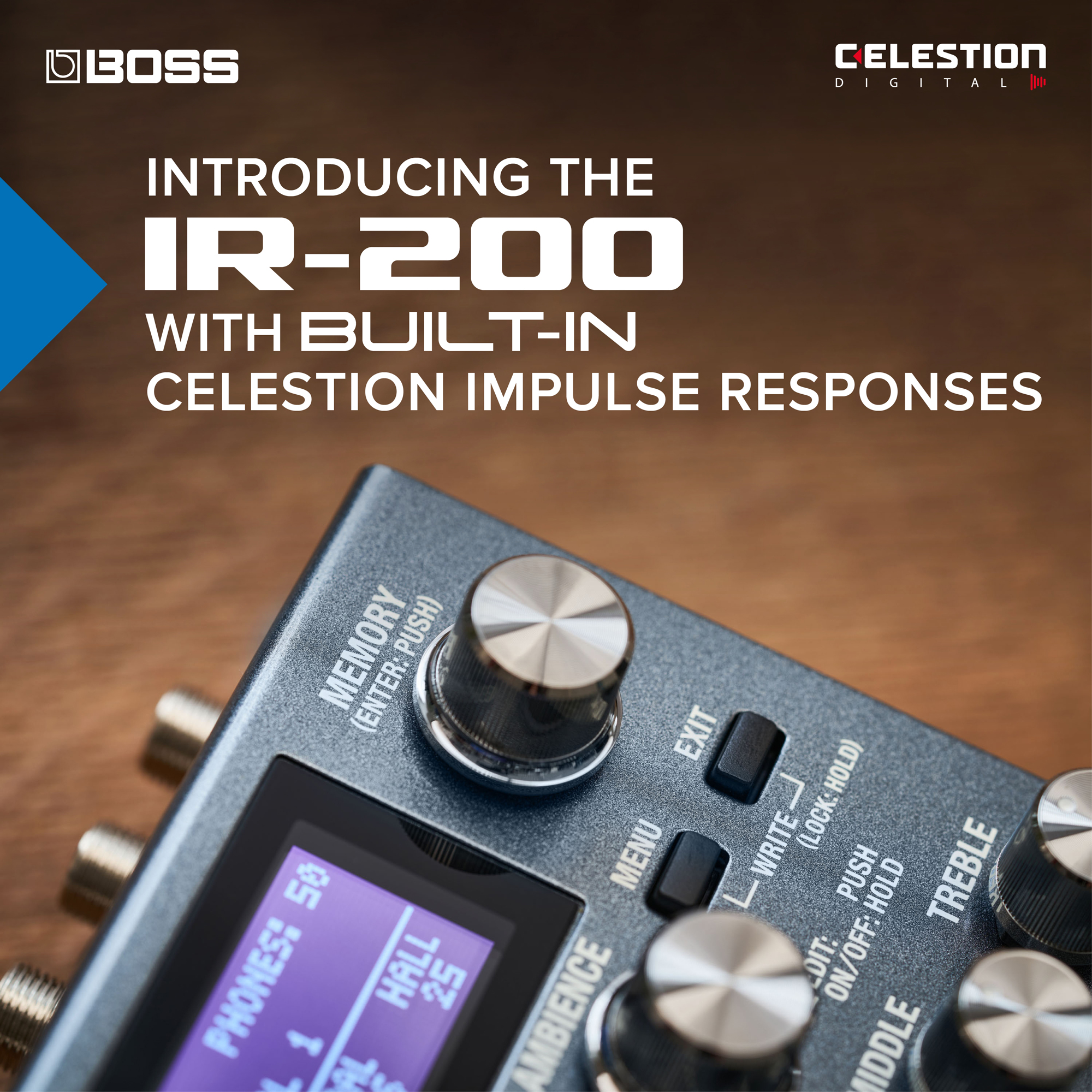 Ipswich, UK (October 6, 2021) —Celestion, the celebrated manufacturer of guitar and bass loudspeakers, digitally downloadable guitar speaker tones and professional audio drivers for sound reinforcement applications, is very pleased to announce that the new BOSS IR-200 Amp and IR Cabinet is shipping with ten of Celestion's most popular Impulse Responses.
The new  BOSS IR-200 brings next-level sound and performance to direct sound for guitar and bass, offering exceptional audio quality, premium amps, deep sound shaping, and instant sound recall with 128 memories. The BOSS IR-200 turns your pedalboard into a self-contained direct sound solution for live playing, studio recording, and practice. It delivers massive amp tones from a small footprint and smoothly integrates with all your favorite pedals, including stereo mod, delay, and reverb effects. And once you craft your tones, you can send them to a stage amp, house PA, computer recording system, or headphones—or all at once.
In addition to from the included Impulse Responses from BOSS, ten Celestion Digital Impulse Responses are included for loading your own mono or stereo IRs.
The included Celestion IRs are:
Celestion Cream             (112 O R-121 Dark)
Celestion Ruby             (112 O Lo-Gn All)
Celestion Blue             (212 O MD421 Balanced)
Celestion G12H (55)             (212 O R-121 Balanced)
Celestion V30             (212 C SM57 Fat)
Celestion G12T-75             (412 C R-121 Balanced)
Celestion G12H Creamback (412 C SM57 Bright)
Celestion G12M Greenback (412 C R-121 Bright)
Celestion G12H (55)             (412 C Hi-Gn 421+121)
Celestion V30             (412 C Hi-Gn All+Room Stereo)
The BOSS IR-200 Amp and IR Cabinet will be available in January 2022. More information can be found at: https://www.boss.info/us/products/ir-200/.
The full line of genuine Celestion Impulse Responses are available for download at: CelestionPlus.
About BOSS
BOSS, a division of Roland Corporation, has achieved legendary status among guitarists, bassists, and vocalists with a diverse, world-leading product lineup of creative tools with exceptional sound, intuitive control, and rugged durability. Since 1977, BOSS's famous compact pedals have been used daily by everyone from beginners to touring professionals, with over 125 unique models introduced and over 16 million units sold to date. BOSS also leads the way with innovative gear in numerous other categories, from amplifiers, multi-effects processors, and loopers to wireless systems, vocal effects, tuners, metronomes, rhythm machines, recorders, and more. For more information, visit www.Boss.info.
About Celestion Digital
The introduction of authentic Celestion Impulse Responses represented the company's forward step in making their celebrated speaker tones available as digital downloads. Celestion IRs capture the essential behavior of a speaker in a particular cabinet in the specific space in which it was recorded, including the frequency and phase response of single drivers as well as the interaction of multiple speakers. They offer significant benefits in both recording and live production, enabling the desired tone to be precisely and consistently reproduced regardless of the recording or live sound environment. Explore, audition and download the extensive collection of Celestion guitar and bass Impulse Responses at celestionplus.com.
The introduction of Celestion SpeakerMix Pro sees the company delivering a truly forward-thinking studio software solution that enables users to get every ounce of tone from Impulse Response technology. The companion Dynamic Speaker Responses launched alongside the plug-in exemplify the next generation in speaker response emulation, representing a true advancement in the technology of digital speaker tone.
www.Celestionplus.com
About Celestion and Celestion Guitar Speakers
An important element to essential British guitar tone since the birth of Rock & Roll, Celestion Guitar Speakers are famous for their lively and vocal midrange character with plenty of sparkle and chime. With worldwide headquarters in Ipswich, England, Celestion design, develop and manufacture premium guitar and bass loudspeakers, and high-quality professional audio drivers for sound reinforcement. These world-renowned speakers are used onstage and in clubs, theatres and other venues the world over. Contact Celestion at: info@celestion.com and visit us on Facebook at www.facebook.com/celestion.
www.celestion.com