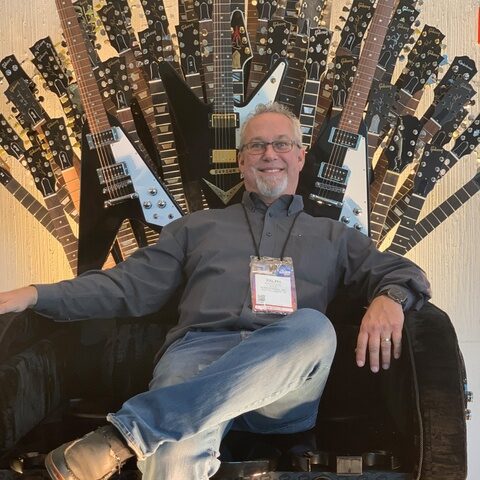 Foothill Ranch, CA (September 27, 2021) — The success of loudspeaker and sound reinforcement manufacturer Renkus-Heinz is a family affair, with three generations of the Heinz family, as well as a number of veteran employees of more than 20 years working together at the company's headquarters in Foothill Ranch, CA, where the majority of the company's products are still designed and manufactured in-house. As company CTO, Ralph Heinz has been the principal loudspeaker designer at Renkus-Heinz since 1992 and is credited with developing some of the most advanced digital beam steering solutions on the market today. As part of the PA Legends interview series, Celestion sat down with Ralph Heinz to discuss the audio industry, his technical innovations and career at the company, and music in general.
A self-proclaimed audiophile since high school, Ralph Heinz was studying mechanical engineering when he had the opportunity to join the company: "I couldn't have been more excited when my father, Harro Heinz, announced he wanted to start his own company, Renkus-Heinz, and it served the music industry with OEM Compression Drivers," says Ralph Heinz. "I was attending San Jose State for mechanical engineering when my father asked me to join the company as a manufacturing engineer. I took it as my shot to get working in the music industry, and get my own family closer to my parents, so they could see their grandkids grow up.
Ralph Heinz credits his father's vision for Renkus-Heinz as the reason that the company is legendary today: "Along with producing some of the best compression drivers at the time, my father, Harro Heinz, was one of the first people in the industry to recognize the importance of combining dedicated electronics to enhance a speaker's performance while providing protection at the limit. Our processor-based Smaart systems gave our customers a reliable platform that lasted well beyond the traditional systems of the day while sounding great doing so."
In terms of the most important technical achievement in the PA industry, Heinz points to the modern line array: "Clearly the modern "line array" has changed the way that the industry provides sound for most venues. This drove the development of the digitally steered class of loudspeakers that we specialize in at Renkus-Heinz as an evolutionary improvement and culmination of the line array concept."
For a CTO and a company with enormous achievements in technology, Ralph Heinz explains how much Renkus-Heinz is still run as the family business: "At Renkus-Heinz, we are very much a family business, with my father, Harro Heinz, still firmly at the helm. My sister is the company CFO, and we now have third generation Heinz, my son Brandon Heinz, doing a great job as product manager," he says. "Everyone benefits from and appreciates the "family style" business climate my father has fostered, so staff turn-over is not an issue for us, and we have a generally happy and very hardworking team of customer-focused employees."
Click here to read the full interview with Ralph Heinz on the Celestion Speakerworld blog.
About Celestion
With worldwide headquarters in Ipswich, England, Celestion design, develop and manufacture premium guitar and bass loudspeakers, and high-quality professional audio drivers for sound reinforcement. These world-renowned speakers are used onstage and in clubs, theatres and other venues the world over. Contact Celestion at: info@celestion.com and visit us on Facebook at www.facebook.com/celestion.