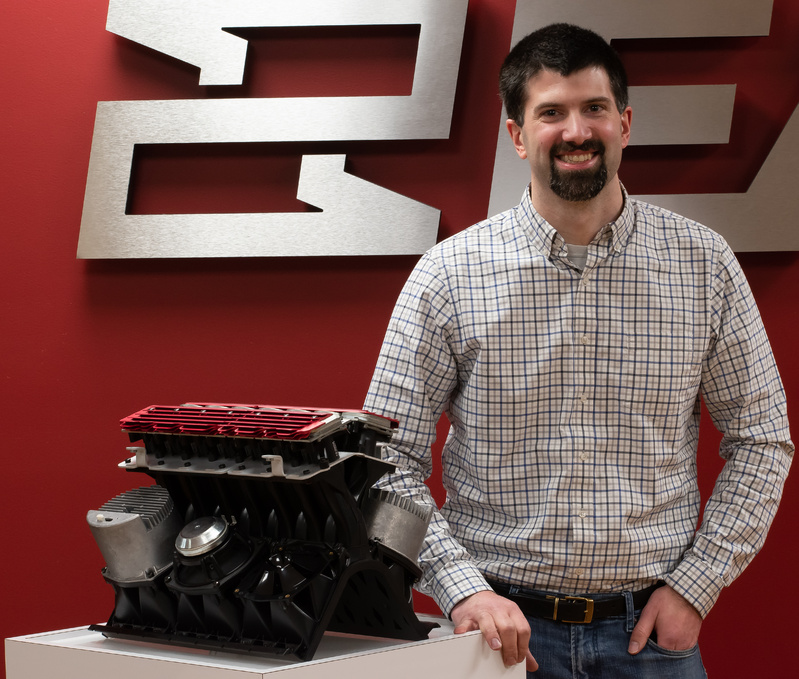 Whitinsville, MA (January 12, 2022) — Eastern Acoustic Works (EAW) has been designing and manufacturing advanced loudspeaker systems since its founding in 1978. The company prides itself at listening very carefully to their customers' needs and responding with innovative products and solutions to help them in achieve consistently stellar performances. These days, every EAW loudspeaker system is controlled by their proprietary advanced software application, Resolution, which empowers clients to be able to map, audition, monitor and dynamically refine their sound systems to match the requirements of a specific application or venue. As part of the Legends interview series, Celestion sat down with Geoff McKinnon, EAW's Director of Brand Engineering and Quality, to discuss the pro audio industry, his technical innovations and career at the company, and music in general.
The combination of music and technology has always captured McKinnon's interest, who from a young age, was always curious about how things worked.
"When I started playing in bands in high school, I quickly found myself running sound for bands as well as for school and church events. That's where I discovered the Pro Audio world – mixers, loudspeakers, microphones and how the systems were set up, McKinnon says. "And I always really wanted to be an engineer. I studied electrical engineering at Rensselaer Polytech Institute (RPI) in Upstate New York. I was really fortunate that RPI had a sound club, and the school owned all this great gear including mixers, loudspeakers, microphones, etc. I really got to share and learn with other students."
It was through a friend in that same sound club that McKinnon first discovered EAW:
"A friend and alumnus of that sound club worked at EAW and gave me a tour. At that point, I was hooked — I knew that I wanted to design loudspeakers," he adds. "It took a few years but I finally got an opportunity to work at EAW as an acoustic engineer. It gave me a chance to work with and learn from a number of talented industry veterans and be a sponge and absorb it all! After working on a wide variety of projects, I was asked to work on an advanced loudspeaker system, which would become EAW's flagship line, the celebrated ADAPTive series of products, including the Anna and Anya adaptive arrays, the Otto adaptive subwoofer, and now the new AC6 adaptive column loudspeaker."
In terms of EAW's position as an industry legend, McKinnon points out that the company has always been about innovation that works for the customer.
"In our case our most innovative product is not necessarily a loudspeaker. I feel it is EAW's Resolution 2 software, which allows for system design, venue modeling and operation of all EAW's loudspeaker products within one application. Resolution software is really what empowers our entire product family. The high performance of our ADAPTive loudspeaker systems would not be possible without this powerful software. Resolution calculates the parameter set to adapt the coverage of the loudspeaker system to any venue and make changes in real time. That power is in the software.  Resolution 2 is free to download from our website so it's also the easiest EAW product to experience."
When asked about the most important technical achievement in the PA industry, McKinnon points to two innovations – Digital Signal Processing and accurate computer modeling tools.  As he says, "These both have really changed the ability to predict the performance of a sound system in a very precise way. We can now be confident that we can have consistent performance day to day, venue to venue.  This was not possible before these advancements."
And in terms of EAW's innovations and success, McKinnon gives credit to the team at EAW:
"Our team is quite dedicated.  We have a work smarter not harder approach to solving problems and helping our customers. For me, I really try to empower each person on the team to deliver products and solutions which help demonstrate their own individual passion for what they do. I want to ensure that talented people have the power to express that passion in products they develop, and solutions that are delivered to customers, adds McKinnon. "And we are always committed to continually innovating and developing exciting products to serve the needs of our customers."
Click here to read the full interview with Geoff McKinnon on the Celestion Speakerworld blog.
About Celestion
With worldwide headquarters in Ipswich, England, Celestion design, develop and manufacture premium guitar and bass loudspeakers, and high-quality professional audio drivers for sound reinforcement. These world-renowned speakers are used onstage and in clubs, theatres and other venues the world over. Contact Celestion at: info@celestion.com and visit us on Facebook at www.facebook.com/celestion.
###