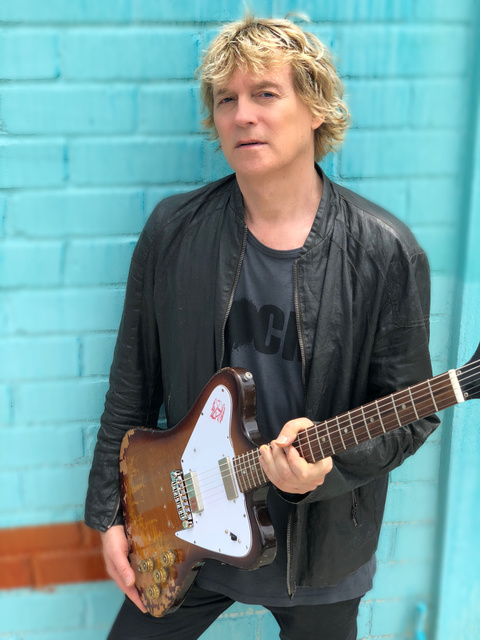 Venice, CA (August 25, 2021) — Hal Lindes is the consummate musician's musician. You'd have to be nothing less to share the stage and studio with the likes of Mark Knopfler, with whom Lindes recorded and toured the Dire Straits albums Making Movies, Love Over Gold, and Alchemy. Not long after, Lindes became a prolific film and TV composer, scoring a plethora of BBC series as well as 2010's critically acclaimed The Boys Are Back, for which he collaborated with artists as diverse as Sigur Rós and Ray LaMontagne. Throughout it all, one factor has been as ever-present as the music in his heart and the skill in his hands: the Celestion speakers in his amps.
"I was in London during the whole punk boom in the mid-'70s. That was an incredibly exciting time because music was being turned on its head. Back then, it was all about just getting up and doing it, with or without formal training. At the time, I bought an amp a roadie in my band had enthusiastically said I just had to hear," says Lindes, recalling his first experience with Celestion. "It was a Vox AC-30, an early-'60s coppertop model. I wasn't familiar with it because when I had been in the U.S. Vox wasn't releasing as much of their great tube stuff there — it was mostly solid-state. So, I had never considered Vox as a contender until I heard this AC-30. The speakers in it were Celestion G12s. I was like, "God, I love these drivers, too! What are they?"
When asked if there is a particular quality or tone about Celestion speakers that is important to him, Lindes says: "This is a personal view, and I'm sure a lot of people will dispute it. To my ears, a Celestion speaker doesn't color the sound. It allows the personality of the actual amp to speak for itself. Also, I play with my fingers mostly. So, I might run the amp higher and play softer so the amp is working harder and you're getting more of its own color than you would if you're bashing away with a heavy pick and heavy right hand. What Celestion does for me here is, it allows the natural sound to come through. It's like I can almost hear the flesh of my fingers in the tone."
And when asked what advice he would give to aspiring musicians, Lindes says:
"The truth is, if you are lucky enough to find your passion in life, then I would always say follow your heart. If you're savvy at marketing and maintaining an online presence, you can get your music out to a lot of people without the need for a major label. And once you learn an instrument, you'll have a friend for life."
Read the full interview with Hal Lindes on the Celestion Speakerworld blog here and explore the complete range of Celestion speakers available to upgrade your tone here.
About Celestion and Celestion Guitar Speakers
An important element to essential British guitar tone since the birth of Rock & Roll, Celestion Guitar Speakers are famous for their lively and vocal midrange character with plenty of sparkle and chime. With worldwide headquarters in Ipswich, England, Celestion design, develop and manufacture premium guitar and bass loudspeakers, and high-quality professional audio drivers for sound reinforcement. These world-renowned speakers are used onstage and in clubs, theatres and other venues the world over. Contact Celestion at: info@celestion.com and visit us on Facebook at www.facebook.com/celestion.